Daniel Tiger Banner Pennant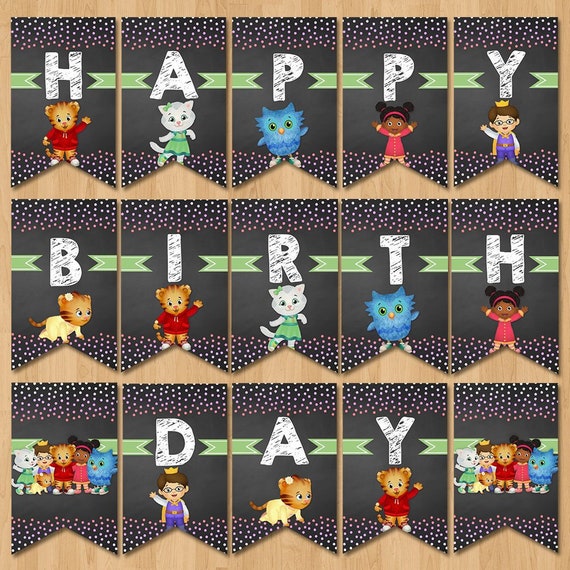 Daniel Tiger Banner Pennant
Daniel Tiger Happy Birthday Banner - Chalkboard Pink - Girl Daniel Tiger Birthday Party - Daniel Tiger Bunting Daniel Tiger Decor 100640
Printable Daniel Tiger Happy Birthday Banner
A pink girly themed Daniel Tiger birthday party might seem like an impossible request, but with this pink and purple Daniel Tiger happy birthday banner, it will be easy peazy.
This banner features all your favorite characters including: Daniel Tiger, Katerina Kittycat, Prince Wednesday, O the Owl, Miss Elaina, and Baby Margaret.
The background is done is a soft chalkboard design and each single banner piece features a different Daniel Tiger Character and a letter, all of which spell out "Happy Birthday."
The colors of the birthday banner are done in soft pinks, purples, and a minty green. The font is done in a nice chalkboard white font to complete the chalky look.
There is also a spacer banner that you can use between the words or at the front and back of the banner, and this features all the Daniel Tiger characters together.
...
Daniel Tiger Banner Pennant Matching Items
Other Daniel Tiger Birthday Party Ideas